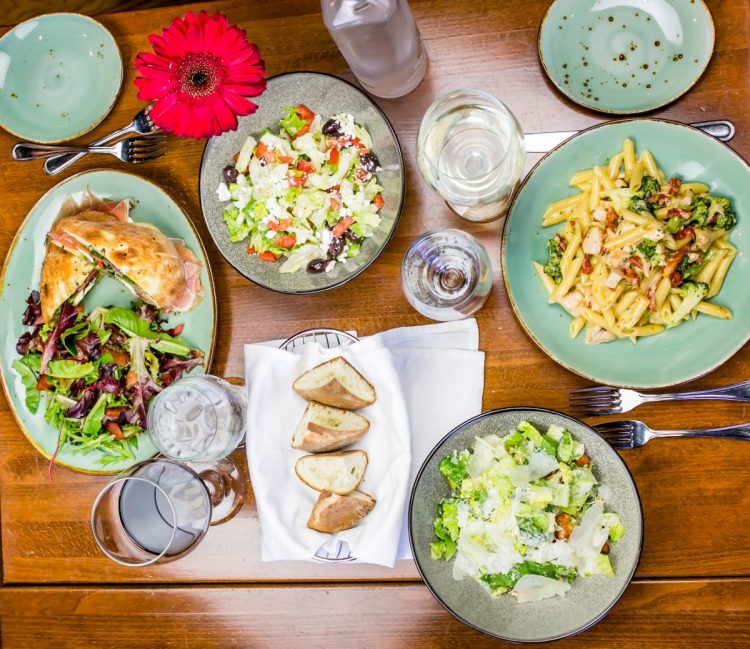 Here at Spumoni Restaurants, we offer catering services for your private event. Whether that being a corporate event, special event, office luncheon, or any kind of party you are planning on throwing, Spumoni can bring its catering services and make sure your guests don't walk away with empty bellies! We offer a large selection of Italian dishes and foods to choose from, everything from vegan, gluten free, we have the foods to cover your guest's special needs.
Getting catering services from Spumoni is very easy, all you need to do is put down your order online! With just a click of your fingertips, you're getting the party rolling by bringing the best Italian catering to your event.
Salads and Appetizers
We offer many different types of Salads. Our Italian salad is made from Romaine and iceberg lettuce with marinated carrots. Topped off with garbanzo beans, roma tomatoes, and a delicious vinaigrette dressing to guarantee the most authentic Italian taste. Another favorite is the grilled salmon salad. It consists of grilled salmon over mixed greens, artichoke hearts, roma tomatoes and topped off with a creamy balsamic dressing. Our large bowl servings serve 10-15 people, while our full tray servings serve 16-20 people.
Another good appetizer to get is the Spumoni Appetizer Platter. It comes with a combination of cured meat cheeses with olives and artichoke hearts. This is the perfect appetizer to start, paired with some white wine, you will definitely awe your guests with the authentic Italian taste.
Entrees
Our grilled lamb chops come in two sizes;  a 1/2 tray that serves 12-15 people, and a full tray that serves 16-20 people. The lamb chops are grilled to perfection, topped with red wine marsala wine sauce. The juiciness of the meat paired with the taste of red wine is heavenly to say the least. Another good entree is the Scampi al Limone Scampi Fradiavola. This is the classic shrimp scampi dish, made with jumbo tiger shrimps in a spicy tomato sauce. If you are looking for freshness, you can taste the sea from the giant tiger shrimps, paired with the spicy tomato sauce the dish has a nice kick to it too.
Other Entree options include veal, chicken, salmon and sole. If you are looking for seafood, we highly recommend the Cioppino Mediterraneo. It is fresh fish, clams, mussels, calamari and shrimp cooked in a light tomato broth. This dish paired with some bread is the ultimate snack. Each bite in to the seafood you can taste why Spumoni has the best Italian catering in Los Angeles.
Other Traditional Italian Dishes
Look no further than Spumoni catering services. We have other authentic Italian tastes such as pastas and pizzas. We have a large selections of raviolis, lasagnas, bolognese, and pescatore options. Ingredients such as fresh cheese, clams, mushrooms will surely amaze you with the wonderful flavors we pack in these dishes! A half tray of pasta serves 10-15 people, while a full tray can serve up to 20 people.
We also have gluten-free New York Style pizzas available for those with the restricted diets. A medium 12″ has 6 slices, and a large 16″ has 8 slices. Some toppings to choose from include pepperoni, sausage, mushrooms, onions, green peppers, olives, eggplant, garlic, salami, meatballs, anchovy, Canadian bacon and pineapple, chicken, pesto, capers, goat cheese, feta cheese, basil, sun-dried tomatoes, kalamata olives, prosciutto and smoked mozzarella. Not enough options for you? Give us a call or go online to see for yourself.
By the way, your first catering is free! Call us and we will provide lunch for 4 people! (1 pasta, salad, bread and drinks included). So if you are still thinking about having Italian food catered to your private event or luncheon, call us and we will make it happen!